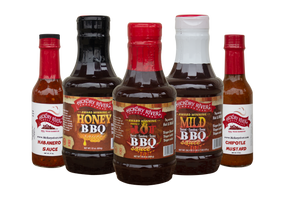 A bundle of our 5 award-winning BBQ sauces!
Hot BBQ

Put some zip on your lips. With our signature blend of spices and hint of smoke that Hickory River Smokehouse sauces are known for, the Hot Barbecue sauce will kick up the meat to a new level of greatness. Be warned this sauce can cause addictive behaviors.
Mild BBQ
Our Mild sauce is anything but mild in flavor. Bold yet sweet, this unique blend of spices and just the right amount of smoky flavor brings any meat to life. It is perfect for chicken, beef and pork. One taste and you will not be able to eat barbecue without it again.
Honey BBQ
Our Honey BBQ sauce is a sweet and tangy combination of Honey and Hickory River's signature spices. Enrich your BBQ with this delectable coating of Honey BBQ sauce, blended to make chicken, brisket, or pork taste amazingly good!
Chipotle Mustard
The zing of the mustard and the zang of the chipotle will have your tongue doing the tango for more. This sauce is a favorite at our stores and will be in your home too.
Habanero
Hold on to your boots, this sauce has some kick. Made from one of the hottest peppers, the Habanero sauce will have you hollerin'. For those who like it hot, this is the one for you.